How to Create a SEO Content Marketing Strategy For Your Private Practice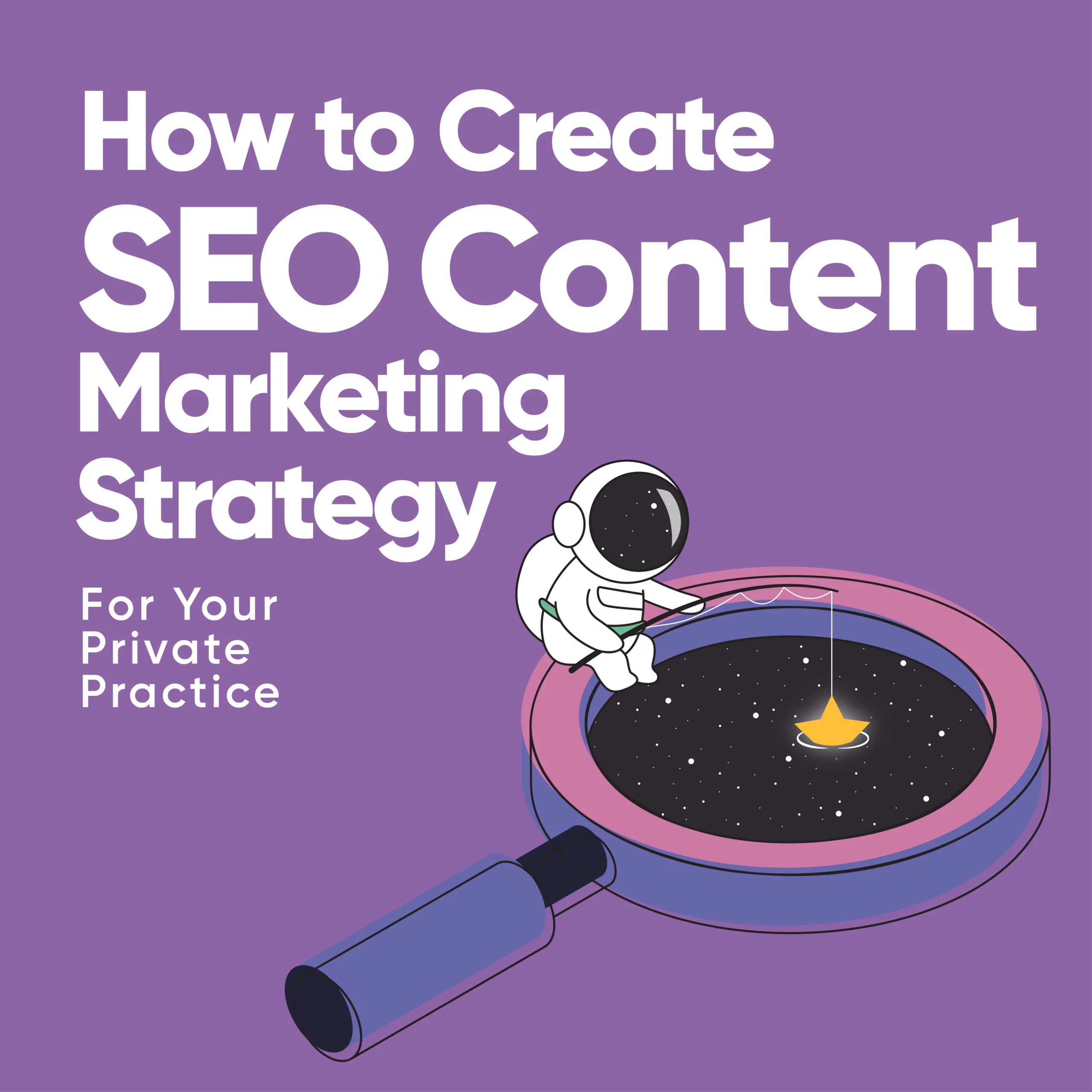 Do you want to further leverage your private practice's website but don't know how? We definitely get the struggle of getting tangled in the world wide web. If you're a mental health expert and you're getting your online presence all set up, then you're in the right place. We've prepared a short guide on how you can get started on your own SEO content marketing journey.  
But first, let's define SEO. Search Engine Optimization (SEO) is a strategy on creating content that allows Google to effectively match your website to people who are looking for information online. To put it simply, the main purpose of SEO is to drive the right set of people to your website. Optimizing your website is not done to cheat search engine rules or algorithms. But to ride them and potentially increase your visibility on the results page when people start googling for service providers.
5 Essential Steps in Creating Your SEO Content Marketing Strategy
#1 Set Up Your Website
You can't create an SEO strategy without a website, therefore, your website must be all set. If you are not yet confident with what you have, you can ask yourself the following questions to see if your website is ready for traffic:
Does my website reflect my branding?

Does my website have an aesthetically pleasing landing page that would make a user want to explore more?

Can users easily find what they need on my website?

Is my website mobile-ready?

Do my website pages load at an optimal speed?

Is my website secure and equipped with an SSL certificate?
If your answer YES to all of these questions, then you are good to go! But if you are yet to start your own website and are not yet knowledgeable about building your own, you can reach out to us and we'll be happy to guide you every step of the way. 
How can we help YOUR practice grow?
SEMI-CUSTOM WEBSITE: A polished and professional website for as little as $180 per month!
FULLY-CUSTOM WEBSITE: We'll create your website content, and design a custom website just for you!
SEO: Rank higher in search results with Search Engine Optimization.
#2 Do Keyword Research
The next step is to assign keywords for your website pages. This is a crucial step. So before creating any content, take your time to do some reading on how to find the best keywords for your business, or simply seek expert advice.
When you do your own keyword research, it's going to be tempting to go with keywords that have high search volumes. But don't get carried away. While the potential traffic is promising, using these broad, generic keywords will be counterproductive. Short tail keywords typically have high search volumes indicating high levels of competition. 
For mental health professionals, I recommend going for long-tail keywords instead. Long-tail keywords are long, specific keyphrases with 3+ words. They do have a combination of generic and specific words that aims to match certain intent. Sample keywords may include: 
Therapist in [your city]

EMDR therapist in [your state]

Mental health support for [parents of children with special needs]

Counseling for men or  [any other subgroup]

EMDR Therapy virtual or [other methods]
Long tails are less commonly searched compared to short tail keywords but they do have higher conversion rates. The reason why these keywords have higher conversion rates is that they match your website or content with people who already know what they want. These people want your help, and they're just one search away from connecting with you.
Integration of long-tail keywords should be done strategically. They should flow into your website copy and blog naturally. Avoid stuffing a page with so many keywords though, otherwise, they will be cannibalizing each other. Stuffing keywords will make it harder for the search bots to decide which keywords to rank you on and won't really work in your favor. The rule of thumb would be to assign one set of keywords per page and build up on that. Finding the right keywords can be a tad bit technical so make sure to read up on that and use easy tools like Google Keyword Planner or UberSuggest. 
#3 Sign-up for a Google My Business Profile (GMB)
Having a Google My Business profile helps your service get on the map. This strategy is highly effective for targeted and geographical searches. Whenever a user looks up a particular mental health service in your area and it detects the keywords connected to your profile, you may get included in the search results. Sounds simple, isn't it? But contrary to popular belief, maintaining an active and optimized profile takes a lot of care and effort in order for this listing to do its magic. We will be discussing this topic more in detail in one of our future posts – so stay tuned!
#4 Build Your Links
You might think that links are irrelevant to your SEO or marketing strategy, but it is a highly effective way to drive traffic and strengthen your site's authority in the world wide web. So how do you build your links? Below is a list of content that can include links to your business that will help optimize your website:
Local directories

– Aside from GMB, make sure to enlist your business in local directories to make sure your business pops up in multiple sources.

Mental health-relevant directories

– Sign your services up with similar businesses in your area. Competition can not be totally avoided but make sure your name gets considered by potential customers.

Blogs –

Consistently create short or long-form content on your website that's relevant and helpful to your audience. Make sure that these blogs are optimized by adding keywords to crucial parts of the copy such as your header, subheader, and even ALT text.

Blogs are great resources not only for your readers but for other websites as well which could help you generate beneficial backlinks further down the line. 
There are other ways to build links for SEO but the ones mentioned above are the easiest ones you can do for your business especially if you are just starting out!
#5 Invest in Quality Content
Having numerous links and a strong keyword strategy is not enough to rank. Creating quality content is critical in search engine visibility above all else. So invest in creating content that's authentic, insightful and brimming with value. Publish content that people would want to read, share with their peers, and encourage them to come back for more. 
Here are some valuable content types that you can consider:
Helpful articles – make sure to post blogs regularly and consistently! Search engines consistently look for updated and relevant content that it can share with their users. 

Digital products that you can link to your website such as self-help e-books, infographics, worksheets, and other reading materials.

Engaging social media posts – Social media posts are not ranking factors but it's a good platform to promote your site and blogs to your followers which can give your website its much-deserved traction. Not sure what to post? We got a month's worth of content for you

over here

! (

Yup! This is an example of an internal backlink that helps us keep readers like you on our site for a little while longer. And if you like our content, you'll come back for more and that's a big help for our SEO

. 😉 )
While there might be sensitive topics in the mental health space that are harder to package for audience consumption, be sure to churn out aesthetic content that can catch the eye and heart of an online audience. Invest in how you want your business to look online because as much as we don't want to judge the book by its cover, face value still has a lot of weight when it comes to customer consideration. 
How can we help YOUR practice grow?
SEMI-CUSTOM WEBSITE: A polished and professional website for as little as $180 per month!
FULLY-CUSTOM WEBSITE: We'll create your website content, and design a custom website just for you!
SEO: Rank higher in search results with Search Engine Optimization.
You see, SEO can be quite tricky. It can also be confusing and even discouraging in the beginning, but many resources on how you can integrate SEO are available online, or perhaps you can get on a call with me for a consult. Either way, you're well on your way to SEO success. All the best!
Did you like this post? Share it!
 I help counselors and therapists  have a bigger impact on the world through better client connection. I do this by creating beautiful visuals and strategically designed websites.