Where to Find Photos For Your Therapy Website
Representation and diversity matter – especially in the pictures on your therapist website! But finding diverse counseling stock photos can be an extremely difficult and time consuming task.
Sometimes it takes much longer to find the right photos for your therapy blog than it takes to write the actual blog post! The same goes for social media, or for finding stock images to use as counseling stock photos for your therapist website. Clicking through page after page, waiting for the photos to load, and deciding on the right photo can be time-consuming and frustrating. But you keep at it because you know the images can make or break your post.
Now, if your blog post were about beaches or sunsets, then your search would be a cakewalk. There are a ton of beach photos out there, and in no time, you'd have dozens of pristine blue and white beach images to choose from. The same thing goes for sunsets. Photographers love sunsets! You can easily find the perfect image or two…or three..or four.
But, what if your images need to be of something very specific? What if you're looking for distinct elements? What if the post was for a niche within a niche within a niche?
What if the images had to be for—say—a therapist's website?
Let's consider what that would take.
Mental health applies to everyone of all ages, which means you would need multicultural and multigenerational portrait photography. Your counseling stock photos would require a diverse group of people with different ethnicities. You would need images with varying body types. All the images should be modern enough to make a website pop, but not too trendy that it would intimidate and alienate people. Lastly, the photos would require a gentle and inviting tone, reflecting the personality of a therapist.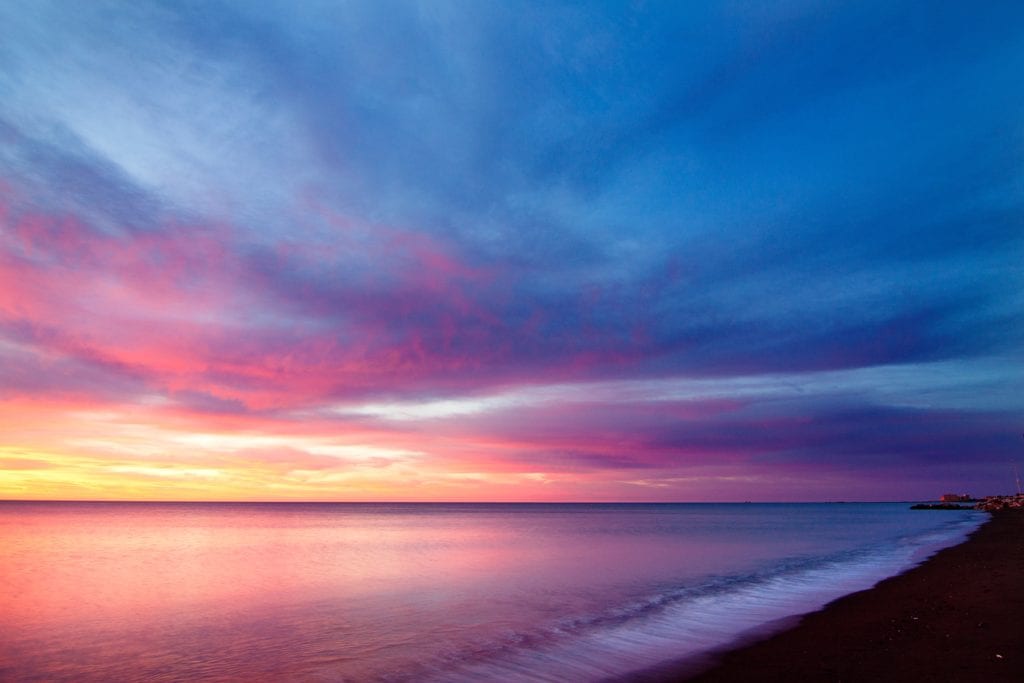 That's a lot to ask. It's enough to download a sunset image and call it a day!
But don't be dismayed. Some websites have exactly what you're looking for. We've compiled them for you here.
Best Image Sources for Therapy Websites
The following sites have a few significant elements in common, which make them ideal sources of photos for therapy websites. They include portrait photography style images that can apply to a therapy site as counseling stock photos. The websites have images that are culturally inclusive and portray a diverse group of people. And, importantly, the images are either royalty-free or rights-managed, with a small fee or subscription. 
A Great Free Resource for Counseling Stock Photos: Unsplash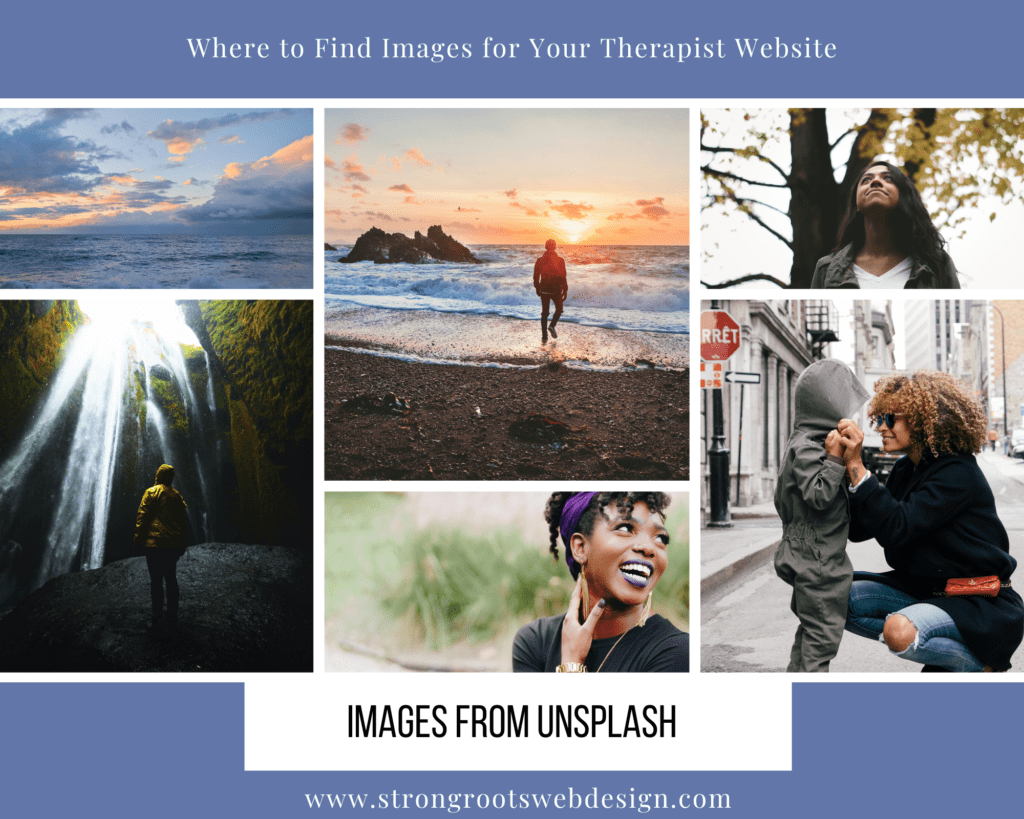 Unsplash is a trailblazer in the copyright-free photo movement.  Created in 2013, Unsplash allows individual photographers to submit photos onto their site. Their renowned team then curates these photos. When photographers submit their photos, they upload their photos with the understanding that they are releasing their photo's rights to Unsplash. All images are covered under the Unsplash license, which is akin to the Creative Commons Zero license that enables the free distribution of works. In short, Unsplash photos are free to use on a website without copyright concerns. 
The photographs on Unsplash are spectacular. Because photographers know that Unsplash is one of the world's leading photography sites, they are willing to let go of their copyrights for the exposure. This means that Unsplash's curators have a wealth of high-quality photos to choose from that are perfect as counseling stock photos.
Because many of the photos on Unsplash come from photographers seeking notoriety, the images can be on the artsy and dark side of things. Once you find a photographer that you like, however, you can search for that photographer's other works. More likely than not, their additional photographs will be what you're looking for. Just utilize Unsplash's collection setting and save them for later!
Unsplash's powerful search engine allows you to search through their photos quickly, using very organized tags. If you're feeling adventurous, you can also browse collections through themes like "Street Life" and "Into The Wild." Although you don't need to create an account to download a photo, you may find yourself creating one anyway. An account allows you to log in and create your own collections, collecting photos for your future projects.
For a"feel good" component, Unsplash also has that for you. You can quickly "thank" the photographer for allowing you to use their work and even credit them on your website. This feature is a way for Unsplash to draw in photographers, but it's also a great way to network. Creating a feeling of community is one of Unsplash's positive aspects.
Unsplash houses an exceptional mix of both landscape and portrait photographs. If you're looking for diverse and creative — and free– images to use as counseling stock photos, Unsplash may be just the thing you need.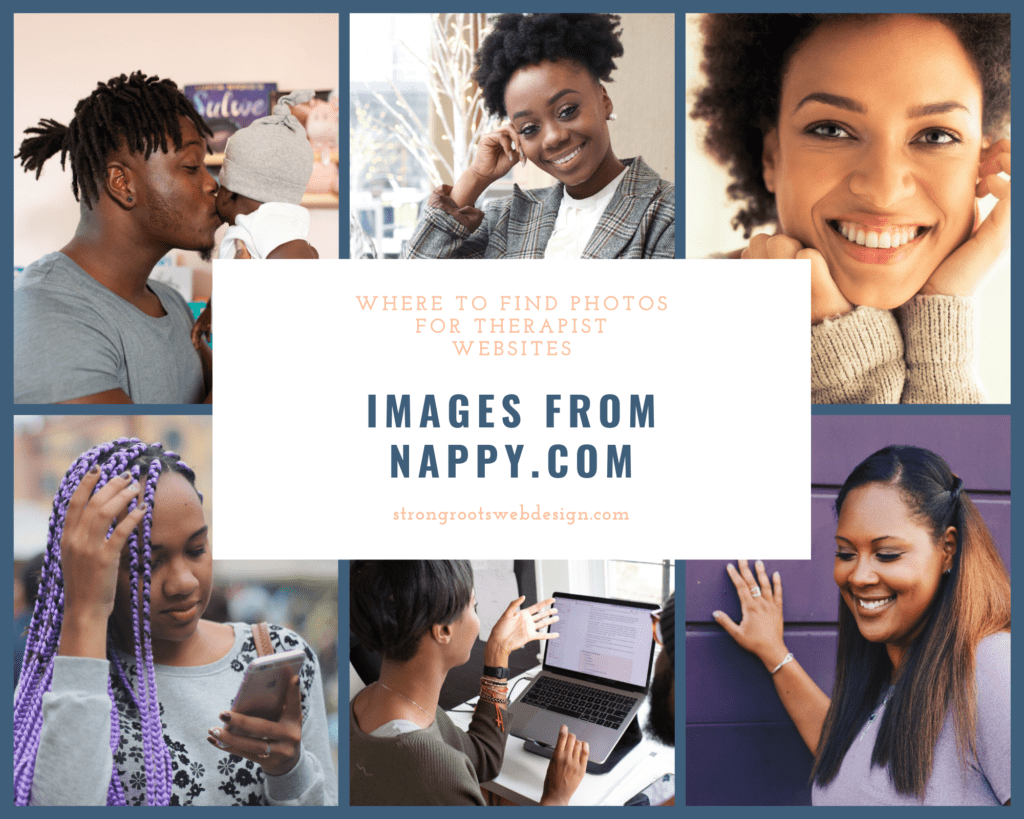 If you are looking for an amazing site that provides beautiful, high resolution photos of people who are often under-represented, then nappy is a resource you absolutely need to check out! 
And did I mention that these professional-quality images are FREE?
Nappy is a great site that is dedicated to providing images that, unfortunately, can be hard to find elsewhere – perfect to use as counseling stock photos. 
On their website they say, "And that's why we launched nappy; to provide beautiful, high-res photos of black and brown people to startups, brands, agencies, and everyone else. Nappy makes it easy for companies to be purposeful about representation in their designs, presentations, and advertisements."
Representation matters, and nappy is an amazing source of great images that should not be missed.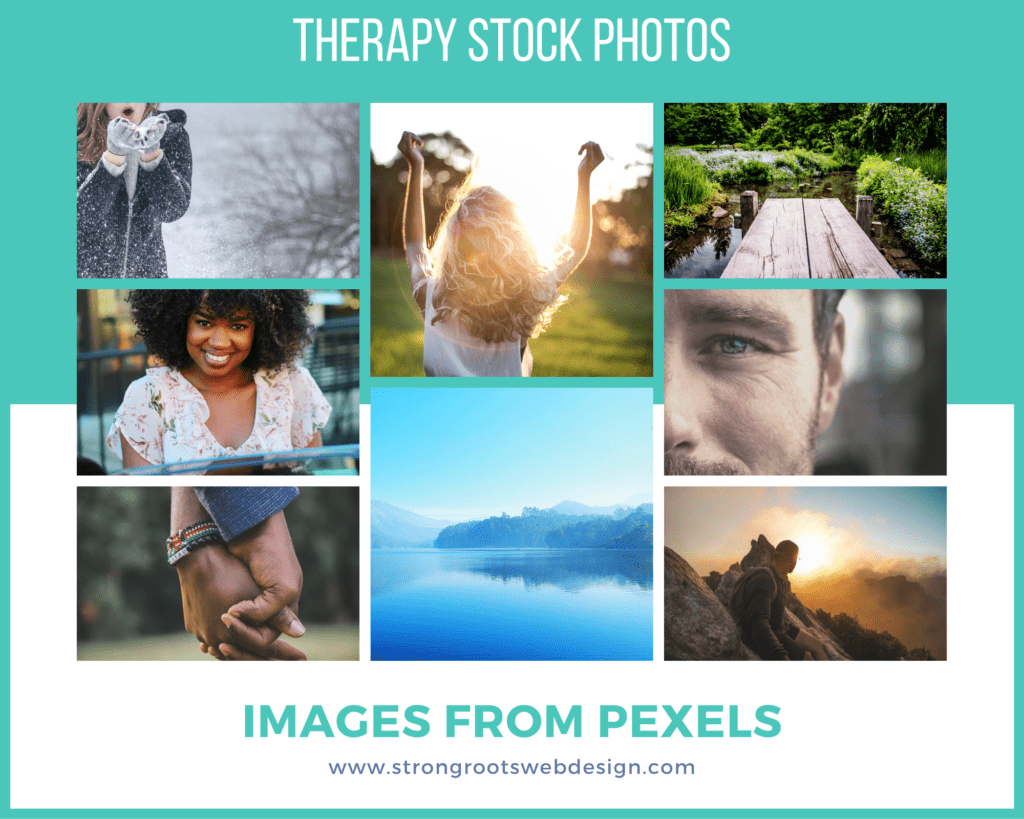 Popular among web designers and app developers, Pexels' tagline is "Empowering Creators." Their goal is to provide access to rare high-quality photos that can be used as counseling stock photos. The photos on Pexels are vivid and vibrant, as their team of photo curators tends towards the eye-catching advertising type of photographs. Dazzling colors, a variety of subjects and settings, and diversified content are the name of the game on this website.
Meant for use on product designs, websites, and apps, their photos are more universally appealing than Unsplash. Where Unsplash might be a little dark and artsy at times, Pexels leans towards bouncy and bright. Browsing through their collection is simple. You can search for themes, locations, and even emotions!
However, because Pexels appeals to all palates, they have a large number of stock photos that appear on other photo sites. This is one thing you might need to keep in mind if you plan on using a picture on a homepage or need something unique.
Pexels also has free stock videos. Although they may take a bit of combing through, you might find some gems in their video section that you could use. If you're not looking for something very concrete, there is probably a video or two that may come in handy. It's good to know that this resource is available should you need it.
An interesting fact about Pexels is that they also carry photos that are direct from NASA. Having NASA photographs is a testament to the quality of images that their curators want. NASA photos might not be on your "therapist's website" list, but it's a good thing to keep in mind for future projects!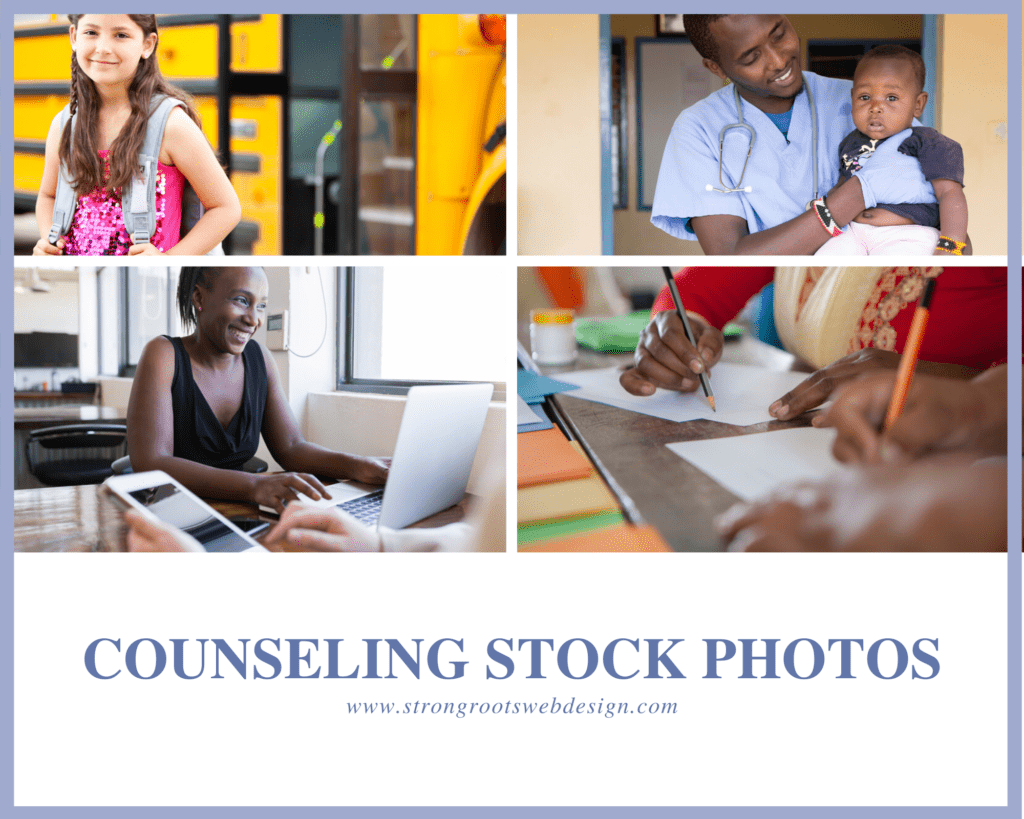 Stocksy contains some gorgeous website-ready photos that can be used as counseling stock photos. These photos are both distinctive and unparalleled, with evocative images and a modern vibe.  (Since Stocksy images are not free, I can only display images here which I have purchased. But if you check out the site, you will see just how diverse and unique these photos are!!)
Stocksy also contains photos and videos that are unique to the site, meaning that the chances of encountering redundant and often-used images are slim. Interestingly, Stocksy pays its creators directly. Their artists receive 50%-75% of all licenses purchased. However, high-quality and exclusivity comes with a cost for the consumer. Subscriptions for the use of the images are necessary. Fortunately, Stocksy prices are relatively reasonable. It is also good to know that the funds are used to pay the artists themselves, and the products are worth every penny.
If you're worried that you might choose a photo that may end up posted elsewhere–you can purchase the rights to that photo for a limited time. Stocksy has "Market Freeze" options that you can buy. If you'd like the option of exclusivity, you can "freeze" photos by purchasing them. Market Freeze prevents any of your possible competitors from using the photos and gives the sole use to you.
If Stocksy's subscription price gives you pause, it's understandable. But if you're looking for images for a therapist's website, this is a site that will have what you need. Many of their images are portrait photos, perfect for a medical or mental health website.  If you need just one perfect photo, the one you wouldn't be able to find anywhere else, and don't want anyone else to use, you may want to pay for that one! If you need an image that conveys a lot of emotion and has examples of a group you are looking for, then Stocksy will have it. And the result will be priceless.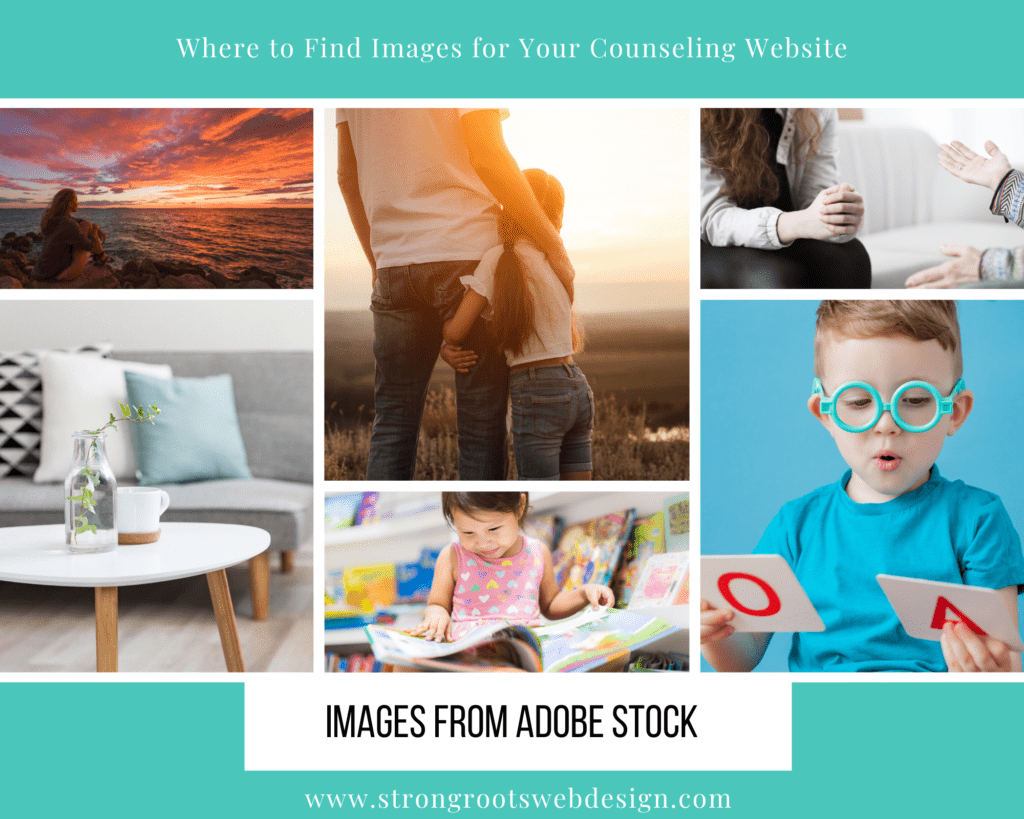 There's brand recognition when it comes to Adobe, and Adobe Stock doesn't disappoint. Started in 2014, Adobe Stock began its business by purchasing the largest bank of images in the world for use with the Adobe application suite. It has since developed partnerships with other image banks and artists, providing its consumers with a massive pool of top-notch images. Adobe Stock also offers seamless integration with the Adobe Creative Cloud applications. For people who are already Adobe fans, Adobe Stock is probably already in their image sourcing arsenal. 
If you're also searching for graphics, videos, and editable images and illustrations, Adobe Stock surpasses all the other websites when it comes to extras. The variety and caliber of the products are hard to match. Adobe Stock has more than 100 million available images, 10 million video clips, and 3D graphics to boot. If your goal is to find a few high quality and unique images to use as counseling stock photos, Adobe Stock might be your best bet.
The site contains impressive high-quality photos and, as with many things that are Adobe — comes at a price. Your first month is free (with a ten image limit), but anything after that requires a monthly subscription or a credit pack. That free trial is perfect for people who don't want to commit. But, once you see what they have, you might get hooked.
For individuals who don't require a consistent number of monthly images, "credits" can be purchased for a set amount of images and last a whole year. Just use them when you need them!
Bonus Site: Creative Market
This last website is more of an extra site. Though you probably won't utilize it as your therapist website images — or even your blog post — they do have a ton of exceptional social media-friendly items. If you post on Instagram, Facebook, or other social media sites, Creative Market can provide you with a vast pool of fun images and eye-catching visuals that are crisp and polished.
Their products include professional web themes, photos, fonts, and graphics. Creative Market's ready-to-use designs will get inspire you to get creative without the fear of having to hire a designer or spend time doing the work from scratch. If you're looking for resources to use on social media, Creative Market is your one-stop-shop.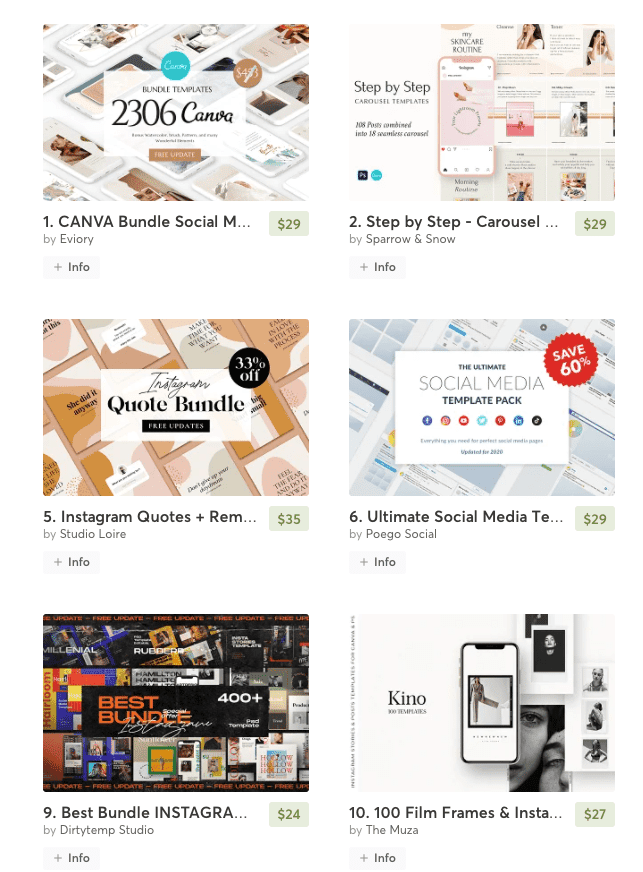 Understanding the Rules: Rights Managed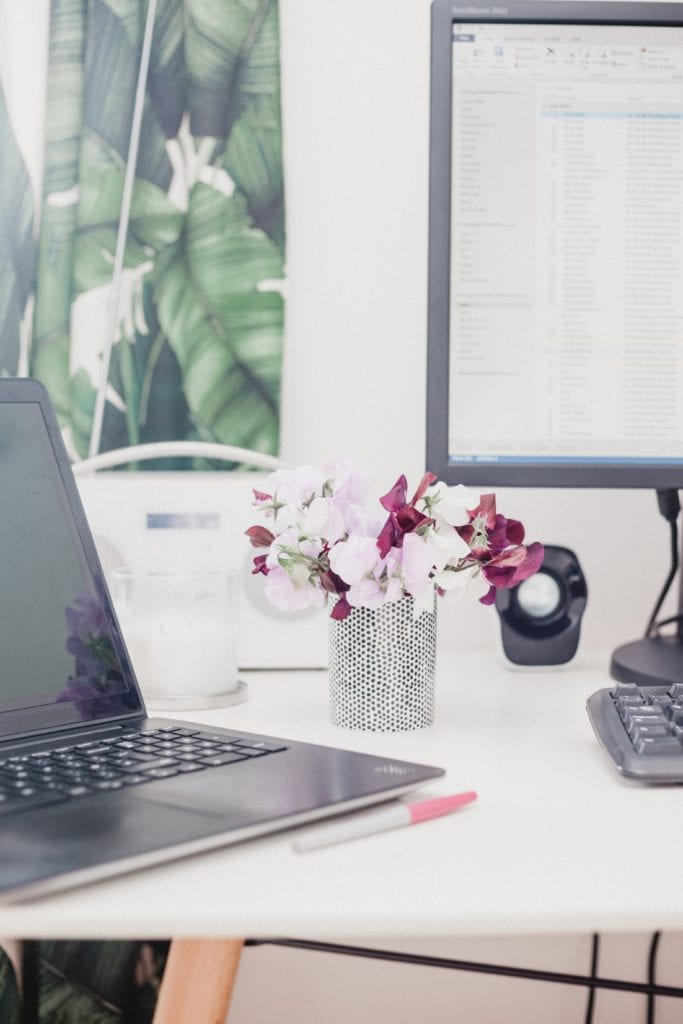 And before we end, let's take a minute to review the not-super-interesting, yet very important rules on image copyrights.
Because not only will an image make or break your post. The use of a copyrighted image, without permission, can make your post illegal. Using a copyrighted image without permission is unprofessional and can get you in a legal mess. It's best to avoid that trouble altogether. Let's go over some terms that you might encounter when trying to source images. 
In the photo industry, mainly with stock photo images, you may see the term rights-managed (RM). These can also be called "licensed images or licensed photos." Some websites require fees at different levels to use images. Smaller payments allow for limited use of the images. More substantial costs will allow for broader use. These fees are licensing purchases that provide for the use of the images.
Companies will charge a subscription to use their already curated rights-managed images, which is a great way to find pictures without searching high and low on the web. Keep in mind, however, that many of the photos in subscription-based sites are royalty-free and public domain photos. So, you may be paying for items that you could have had for free.
Also, when purchasing rights-managed material, read the fine print. There are actions you can and cannot do with what you are buying. For example, using the image in a post may be within the purchased rights. But using the image on t-shirts to sell on your website might not be allowed.
The term royalty-free (RF) refers to the copyright license of images that let you utilize them without restrictions. Public domain (PD) images don't have any existing copyrights attached to them. Their intellectual property rights are no longer applicable, expired, or were forfeited.
Sourcing Photos In General
When looking for images to use as counseling stock photos, one of the ways to make your life easier is to always be on the lookout for photos that stand out. If they're striking to you, they're probably attention-grabbing on the whole. Take advantage of the ability to create your own collections of go-to images on the websites listed. It will save you precious time in the future.
Also, if there's a particular photographer or artist that you use often, make sure to highlight them and give them credit. Everyone appreciates kudos, and paying it forward is never a bad thing! They've made your job easier, make theirs just a little less stressful, too.
Looking for the perfect image can be a hair-pulling table-pounding process. Hopefully, now that you've have a few websites bookmarked and ready to go, you'll enjoy the process just a little bit more.
Don't Miss These Recent Blog Posts!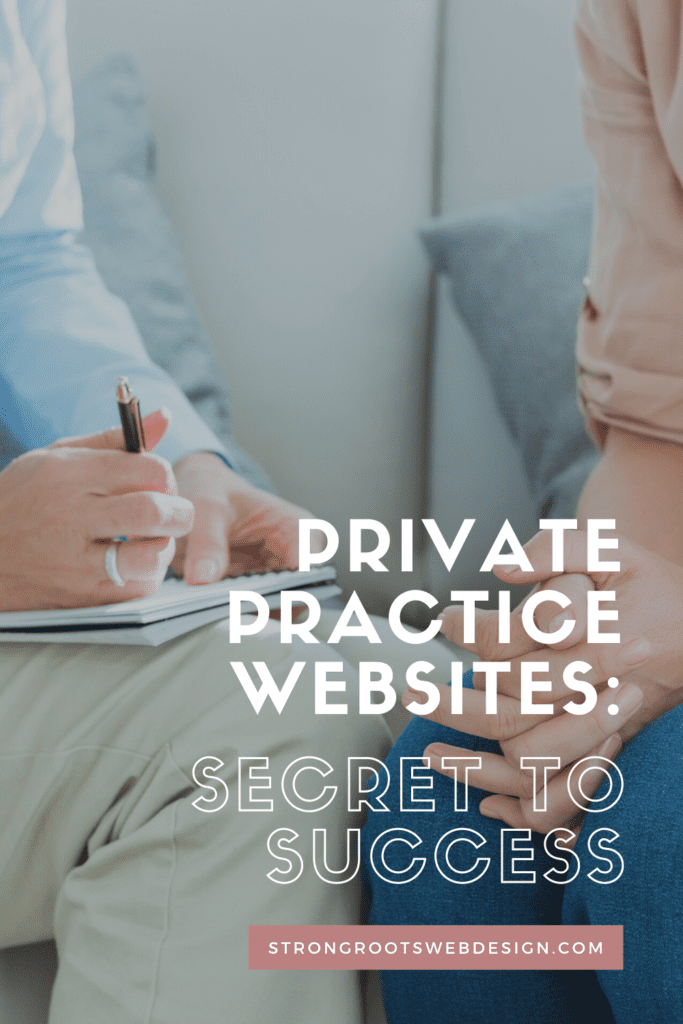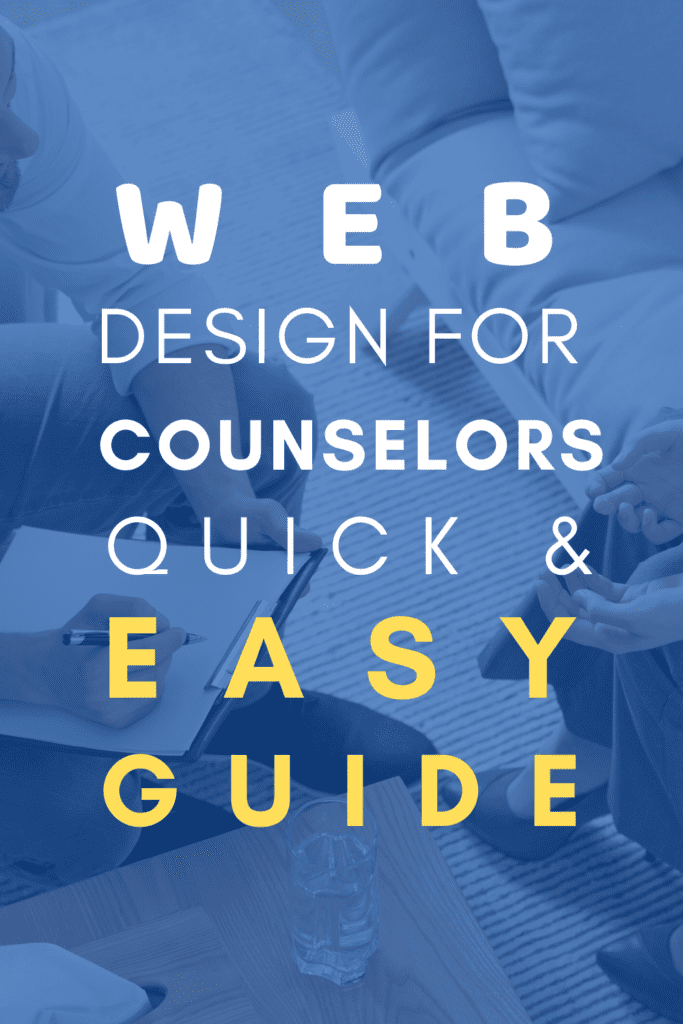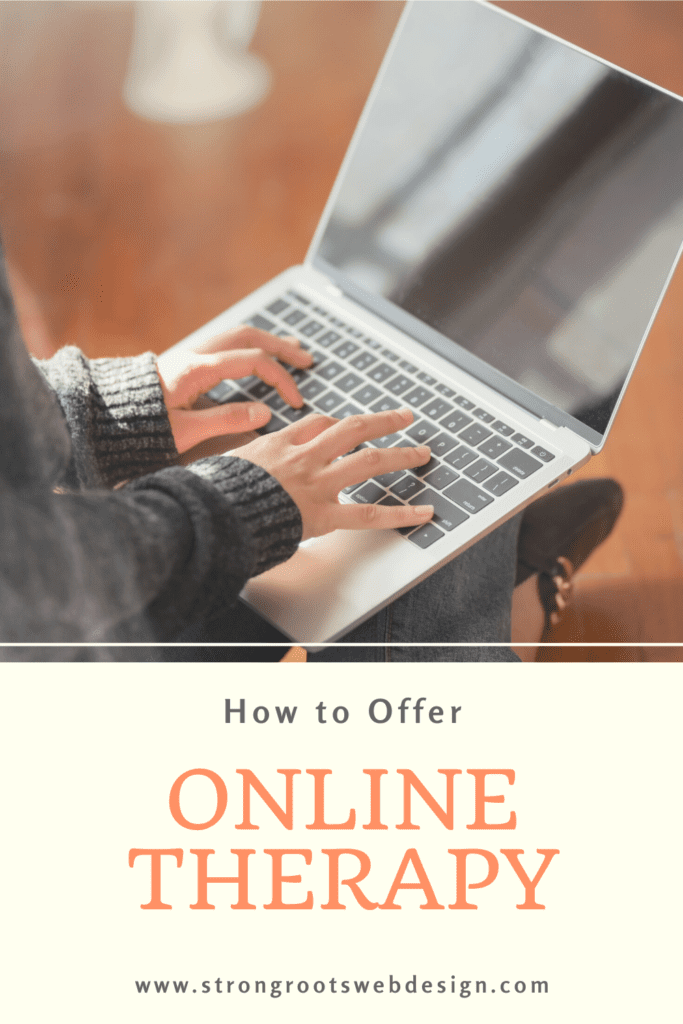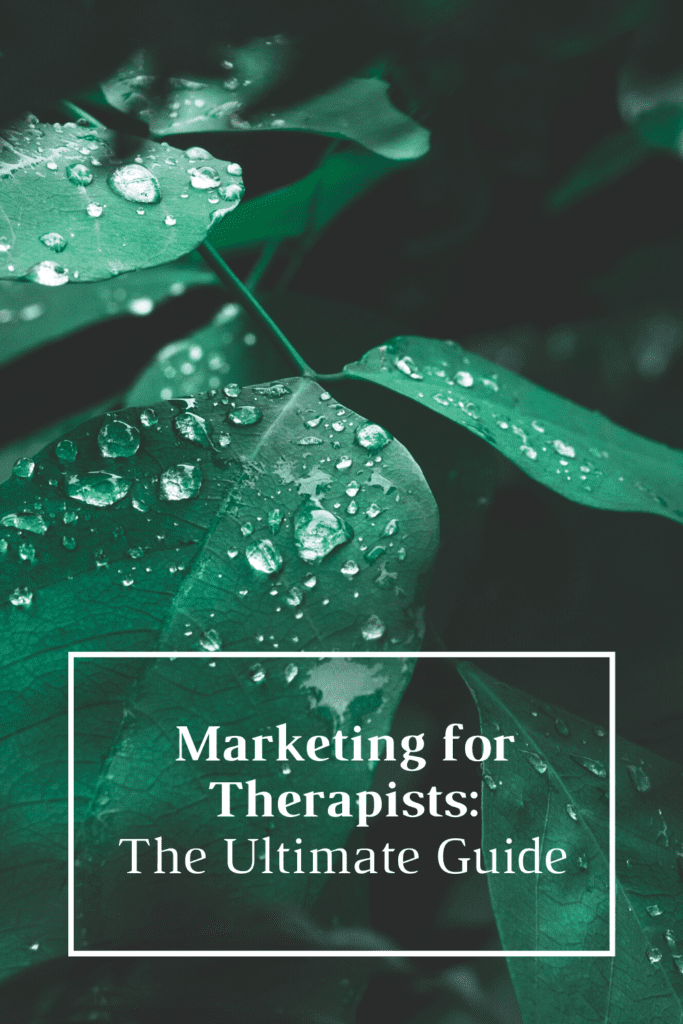 Did you like this post? Share it!
 I help counselors and therapists  have a bigger impact on the world through better client connection. I do this by creating beautiful visuals and strategically designed websites.